Got some time to kill? Here's a game that should take care of it for you. It's called N. You can get it at page.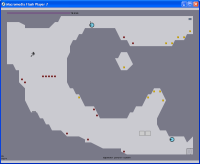 You only use three keys on the keyboard to play – left and right arrow keys to move and shift to jump. But because of the physics built into the game, the possible moves are pretty much endless.
It takes a little getting used to, but give yourself about 10 minutes of practice and you should be flying all over the screen.
The best part is watching the poor little ninja explode when he gets shot or hits a mine. There are 300 levels to the game, so you'll have plenty of chances to witness this first hand.