Well, we had a great time at Scarborough Faire. And we somehow managed to take exactly 100 pictures. I'm still going through and trying to pick out the best of them to put up here.
In the mean time, I finally got around to posting the sleeping gallery. Here's a sample –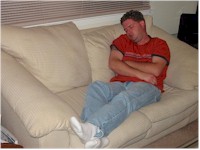 This is Ben doing what he does best. Click the picture for the rest of the gallery.