Paige and I have the worst luck with restaurants. It seems like no matter where we go to eat, something always goes wrong. We haven't been back to the "big cow" in years – not since Paige found a worm in her salad. Technically it was a caterpillar, but I won't bring that up here…
Anyway, last night we thought we'd try the new place down the road from us called Wing-N-It. It's a cute little burger and wings place that looks like a hanger. There's even a dirty old airplane inside, raised on a platform that almost touches the ceiling.
We ordered two burgers without onions, two drinks, an order of fries, and an order of wings. Surely they could whip that up in five minutes. It took about 30 minutes to get our meal, and four different people came to the table to ask what we ordered and tell us that they messed up. It seems they gave our order to someone in the drive through – twice.
We did get some work done around the house yesterday. We finally dug up all of our rose bushes. They were mangled beyond repair. Here I am burning them –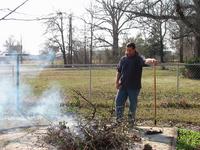 That's one of the great benefits of living outside of town. You can set things on fire pretty much any time you want.