It's been a while since my last post, so I've got some catching up to do…
First, the robotics team did better than ever a little over a week ago. We got the 3rd place BEST award. The BEST award is a combination of the team's notebook, presentation, table display, spirt and sportsmanship, and the robot's performance on the field. Unfortunately, 3rd place was not enough to go to state. Here we are on the field after we won: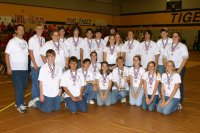 I think I was looking at the wrong camera when they took that picture. There were actually three people taking our picture at the same time. I'm proud of all of those kids. I had my doubts at times, but they pulled it all together in the end and did a great job this year.
In personal news, I've gone over 3 weeks now without tea or Dr Pepper and I still feel great. I think I can stick with this for ever. The next thing I'm going to try to cut out is some of the red meat.
And finally, November 2 is election day. Don't forget to go vote if you haven't already. It seemed like lots of people voted early around here. I actually had to stand in line at the court house for about 15 minutes.
I've always heard if you don't vote, you can't complain about who gets elected. I started to ask if I could vote twice this time. I think I've done enough complaining for at least two people in the last year alone.