I've been meaning to post this picture for a while now. It's almost two months old. I figure since I made fun of Ben for wearing a "Dukes of Hazard" shirt around their baby the other day, I should show what we're doing to Matthew.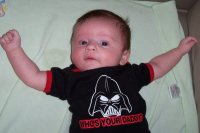 For those of you who aren't Star Wars fans, like Paula – that's Darth Vader on the shirt and it says "Who's Your Daddy?". That's funny because Darth Vader is really Luke's father… Sorry if I just ruined the Empire Strikes Back for anyone.
Blame Geoff for this outfit, he bought it for Matthew.