I got a new toy over the weekend, and so far I really like it. I couldn't resist the lure of Apple computers anymore, so I bought myself a Mac mini.
I've only been using it for about 3 days and I already think it's going to be my main computer from now on. Everything about it makes me happy. It's practically silent and it's extremely small.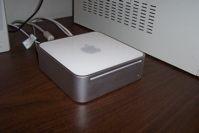 That giant beige box in the background is my old computer. When it's on you can hear it humming all the way down the hall in our bedroom. Maybe I just won't turn it on anymore.
Even better than the computer itself is the software that comes with it – iMovie and GarageBand are amazing. I'll be making movies and music in no time. I'll probably even sell my old four track recorder now that I have this.
Mac OS X is solid as a rock and UNIX based which is perfect for me. All of the low level stuff I'm used to from Linux is still there only there's this nice candy coating on top that makes it so easy to use.