Breakfast at Round Rock Donuts. Suppose to be world famous and now we know why. Never had donuts like these before. They are a yeast donut made from a recipe that is 90 or so years old and the are orange in color. Awesome and they were still warm when we got them, which is even better. We got there late in the morning and had to stand in line but what was really crazy was the drive-thru, out of the parking lot and down the street. We've heard around the holidays the line can take up to one hour!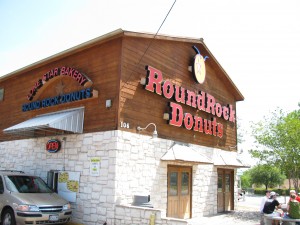 For lunch, we happened upon a taco shack. Yes, it was a shack but it was packed so we knew it had to be good and we were hungry. It was Sunday so they had a gospel band playing outside in their court yard and when they broke out into "O, When The Saints Go Marchin' In" a dance line formed complete with folks waving scarfs in the air. It is a great place to people watch and apparently, shoes were optional and dogs where welcome. But what really mattered was the food. Our tacos could not have been any tastier and the whole meal for the three of us was $8.95. Guy from the Food Network had visited the place and left three or four signed pieces that they hung on the wall.
What sealed the deal for me to go back again was when we left and Matthew asked, "Can we go back tomorrow?" Here are some pictures of the place.
The outside: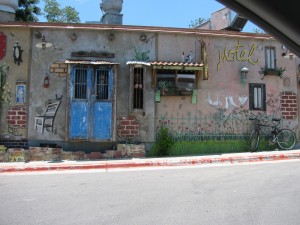 The inside: