My iPod shuffle showed up the other day as promised. This thing is so much better than the Rio. The sound quality is amazing, especially when you consider that it's about the size of a stick of gum and weighs less than an ounce. It's hard to really understand just how small it is until you hold it.
Matthew couldn't wait to get his hands on it: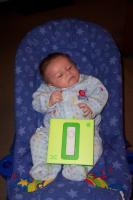 So far, 1 GB is plenty of space. Apple says that's 240 songs with is probably pretty close. I usually estimate 1 MB per minute of music so 1 GB would be 1,000 minutes, or almost 17 hours. Filling it with music only takes a few minutes. Sunday I uploaded about 4 hours of music and it only took 2 minutes.
I just love new toys…