There's good news and bad news… The good news is I don't have to stay up at the school until 6:00pm every night anymore. The bad news is we didn't do so well on game day. As a matter of fact, we didn't even place.
We came in 8th place on the field again this year. We made it to the semi-finals thanks to our performance in the wild card match just like before. Last year we came out in 3rd place for the BEST Award, this year we got nothing.
I honestly don't know exactly how we did, since they only announce scores for the teams that place. I'll have to try to e-mail somebody at BEST and see if we can get our score.
We may not have won a trophy, but no one can deny that we had spirit: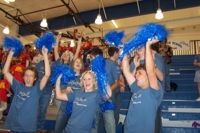 Oh well, we'll try a little harder next year…